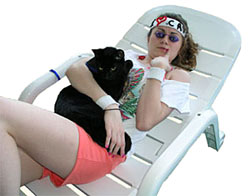 Jenny O'Penny
Cat Lady

Beep-beep! Slap-slap! So goes the harmony between the treadmill heart monitor and your sonorous thighs. I watch them glisten in the midday light, their rhythmic undulations
drowning out the pleading purrs of your collared pussy. Like a sweat-banded Helen, armies of my desire you do launch as I behold with a fool's hope your arching, dripping, over-heated haunch!


vital info
Hobbies: growing catnip, distracted driving, trespassing, cuddling
Turn-ons: tongue baths, laser pointers, behavioral therapy, vitamins, criticizing friends, small objects hanging from string
Turn-offs: allergies, ingrown toenails, hairballs, sanitation, soy milk, secondary colors, Turner Classic Movies
Favorite cat words: catheter, cathod-ray, cataclysm, catarrh, cat prostate
Motto: "Kitty-kitty bang-bang!"